Having lived in Montmartre for more than 10 years, I love its sparkling or relaxing ambiance, its little streets, gardens, places, restaurants, shops, and of course its inhabitants, originals, artists, comedians, business men, sportsmen, shoppers, all of them conscious to be living in a very nice little village located in one of the most beautiful cities.

La boutique des je t'aime project starting with very nice encounter.

I have been working for now 20 years in creating communication objets for companies, museums, brands,…During my daily trips in the district, passing by place des Abbesses, I have always been attracted by the vibrant blue light rectangle created by the love wall inside the lovely Jehan Rictus square. Stopping by, I was (and I am still) struck by the beauty of the message, its coherence, and the calm and relaxing spirit of the area.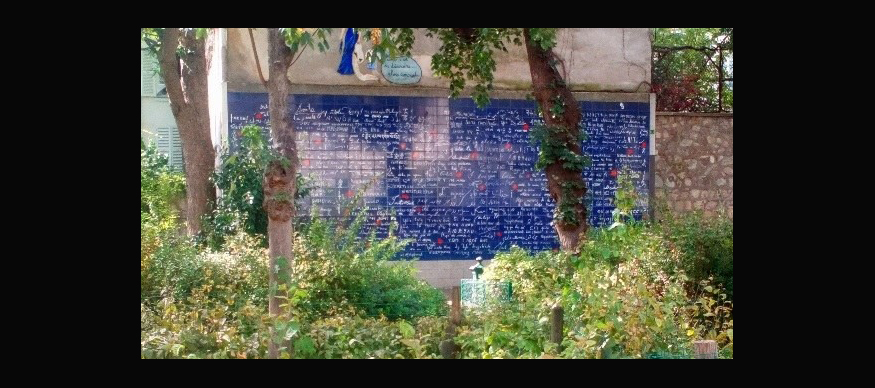 I decided to contact the authors, Frédéric Baron and Claire Kito, to propose them to develop a range of souvenir products for our dear visitors. The contact was very positive from the start: warm and benevolent, but also demanding and authentic. We agreed to work together, taking the necessary time to develop a range that corresponds to our ideas, and that Frédéric and Claire detailled in the « lettre des auteurs », letter that you can read in the next section (in French, sorry!)

We carefully selected a range of products, mostly made in France or Europe, using good materials, as respectful as possible of our dear nature, and using most advanced personnalisation processes.

We also wanted to involve ourselves in our district, and this is why, for now 3 years, we participated in the « fête des vendanges », doing a charity sale for the elderly of our district. We have not been able to do it in 2018, but will continue as soon as we can.

Like all projects, this one is bound to evolve: product range will increase, new collaborations will come, with the same desire to develop our offer, and to offer you the best possible.

Any comment is more than welcome,

Wishing you a nice visit,

Eric Pallard
La boutique des je t'aime.
Une activité du groupe PARLE-OBJET (www.parle-objet.com)
Contact: eric@laboutiquedesjetaime.com / + 33 6 52 18 01 72